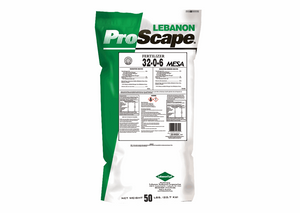 LebanonTurf ProScape 32-0-6 30% MESA - Fertilizer. 50LB Bag.
Click the buttons below to see more Product Information and Safety Data Sheet
Product Description:
A premium straight fertilizer product with an NPK of 32-0-6.
For residential, commercial and general turf use.
30% MESA for slow release of nitrogen with immediate green up without surge growth.
Muriate of potash which stimulates the growth of strong cells and provides disease resistance by promoting thickness of the outer cell walls.
Please see the label for specific information on pests controlled, application rates, timing, and use.
More Information:
MANUFACTURER: LebanonTurf
PRIMARY APPLICATION TARGET: Turf - Maintenance
FUNCTION: Straight Fertilizer
NITROGEN SOURCE: 30% - Mesa
SLOW RELEASE NITROGEN: 20%
POTASH: 100% - MOP
SGN: Standard
FORM: Granular
COMPOSITION: Blend
COVERAGE: 31200 sq. ft..
NEW SEED APPLICATION RATE: per 1,000 sq. ft.
OVERSEED APPLICATION RATE: per 1,000 sq. ft.