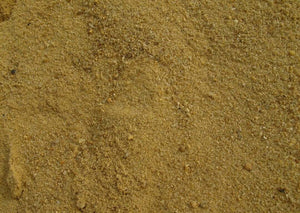 Premium Concrete Sand is a type of sand that is widely used in construction and landscaping. It's a fine-grained sand that is also known as washed concrete sand or manufactured sand. It is mainly used as a base material for concrete, pavers, and other types of hardscaping, as well as for creating smooth surfaces for walkways, patios, and outdoor living areas. This sand is created by crushing and washing natural sandstone, resulting in consistent color and texture, with particles that are typically tan in color. Due to its excellent drainage and high compaction properties, it's a popular choice for a variety of construction and landscaping projects.
Delivery Dates are subject to change due to Material Availability and Weather Conditions.
Click the buttons below to see more Product Information and Tons per Square Foot Calculation Coverage Chart.
Great quality concrete sand
It was great amount accurately calculated and promptly delivered . I cannot thank enough for details explanation and help. Will be back shortly !