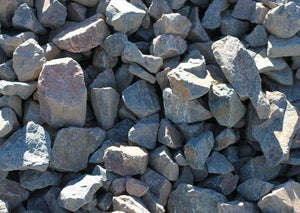 Ballast Stone for irrigation and landscaping projects is a versatile and durable material that can be used for a wide range of applications. It is typically made of limestone or trap rock and is crushed to a specific size to meet the needs of irrigation and landscaping projects.
For irrigation projects, ballast stone is often used as a drainage layer in the bottom of trenches for irrigation systems. This helps to prevent water from pooling and allows for proper water flow. It also helps to prevent erosion and maintain the stability of the irrigation system.
It is also a good material for drainage, particularly when it is used as a sub-base, this means that it is placed underneath other materials such as gravel and other decorative rocks. Overall, ballast stone is a practical and attractive choice for irrigation and landscaping projects, due to its durability, versatility, and natural beauty.
Delivery Dates are subject to change due to Material Availability and Weather Conditions.
Click the buttons below to see more Product Information and Tons per Square Foot Calculation Coverage Chart.