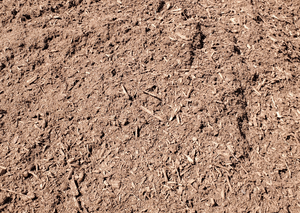 Looking for a natural, organic way to add some life to your garden beds and landscapes? Look no further than Triple Ground Organic Brown Mulch from FSBulk.com. This mulch is not just any ordinary mulch. It is made from a blend of high-quality, all-natural materials, including leaves, bark, and wood chips, that are ground three times to create a premium mulching solution that will make your plants and flowers thrive.
This Triple Ground Organic Brown Mulch is not just a cosmetic addition to your garden. It offers real benefits to your plants and soil. The mulch helps retain moisture in the soil, reducing the need for frequent watering. It also helps regulate soil temperature, keeping roots cool in the summer and warm in the winter. The natural materials in the mulch will also break down over time, adding organic matter to your soil and improving its overall health.
What sets this mulch apart from other options on the market is its rich, warm color. The brown hue of this mulch is achieved through a special process that enhances the natural color of the materials used, resulting in a beautiful, eye-catching mulch that will complement any garden. And, because it is organic, you can rest assured that it is safe for your plants, your family, and the environment.
With Triple Ground Organic Brown Mulch, you can create a beautiful, healthy garden that will thrive for years to come. Whether you're planting a new garden bed, reviving an existing one, or just adding some finishing touches to your landscape, this mulch is the perfect solution. Its premium quality and beautiful appearance will make it stand out in any garden.
So, if you want to add some natural, organic beauty to your garden, get your hands on the Triple Ground Organic Brown Mulch from FSBulk.com today. Your plants will thank you!
Delivery Dates are subject to change due to Material Availability and Weather Conditions.
Click the buttons below to see more product information and a cubic yard calculation coverage chart.
Mulch purchase
These guys are always friendly and very helpful. I couldn't be happier with the service, and a good price !
Service is excellent. Mulch was clean and promptly delivered with notice ahead of time. Driver was courteous and careful.
Mulch delivery
Delivered as requested. Mulch is of good quality
Great company
I'm a long-distance contractor with property in their area I needed mulch for the property and they make sure everything was delivered on time accordingly so when I sent my crew everything will be done. Thank you very much looking forward to doing business with you again.
Great quality and heavy yards!
Great quality. Amount delivered makes me question if other company was shorting amount delivered. Will use again.