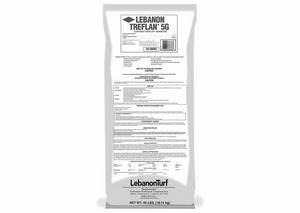 Lebanon Treflan 5G HDG Herbicide - 40LB Bag.
Click the buttons below to see more Product Information and Safety Data Sheet
Product Description:
A granular weed control product on an HDG carrier.
For maintenance of existing trees, shrubs, and flowers.
Treflan at 5% for pre-emergent control of annual grasses and broadleaf weeds.
Please see the label for specific information on pests controlled, application rates, timing, and use.
More Information:
MANUFACTURER: LebanonTurf
PRIMARY APPLICATION TARGET: Trees and Shrubs
FUNCTION: Straight Weed Control
SGN: 150
FORM: Granular
COVERAGE: 22200 sq. ft.