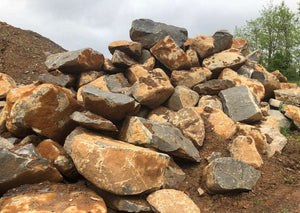 Dolomite Boulders are sizable, organic rock formations frequently employed in landscaping and hardscaping endeavors. Exhibiting a light to medium gray and tan hue, these rocks possess a sleek, textured exterior. Dolomite is a sedimentary rock primarily consisting of the mineral dolomite (calcium magnesium carbonate), which boasts greater resistance to weathering and erosion compared to limestone.
These boulders serve as eye-catching elements in gardens, alongside water features, or as highlights in rock gardens. Additionally, they can be utilized to construct retaining walls, steps, or borders in landscaping efforts. Dolomite boulders are also favored for use in pool waterfalls and other aquatic installations, thanks to the innate elegance and durability of the rock. Both residential and commercial landscaping and hardscaping projects frequently feature dolomite boulders as a preferred choice.
Delivery Dates are subject to change due to Material Availability and Weather Conditions.