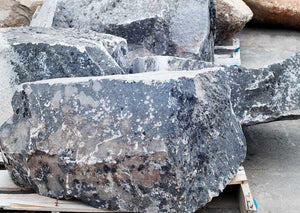 Argillite boulders are large, natural rock formations that are often used in landscaping and hardscaping projects. They are typically gray or black in color and have smooth, polished surfaces. Argillite is a sedimentary rock made of clay-rich particles that have been compacted and cemented together over time. It is a hard and durable rock that is resistant to weathering and erosion. Boulders made of Argillite can be used as a decorative feature in gardens, around water features, or as an accent in rock gardens. They can also be used to create retaining walls, steps, or borders in hardscaping projects. Because of their natural beauty and durability, Argillite boulders are a popular choice for both residential and commercial landscaping and hardscaping projects.
Delivery Dates are subject to change due to Material Availability and Weather Conditions.
Great selection and easy placement
We went to their yard and chose the large Gray Argillite boulder we wanted in our backyard from their huge piles. Their team delivered and moved it across our yard to exactly where we wanted it. Extremely fair pricing, and they made it easy throughout. Highly recommend them.
Amazing customer service
I showed up looking for some boulders and got perfect service and respect from the start. A tour through the stones, expert advice and an extremely reasonably priced deal... then an accommodation in their delivery schedule. The delivery driver made time for my delivery the same day. The delivery was surprisingly spectacular. The driver maneuvered the big truck into a very small driveway without hesitation nor a scratch on our gate or fence. Highly recommend!